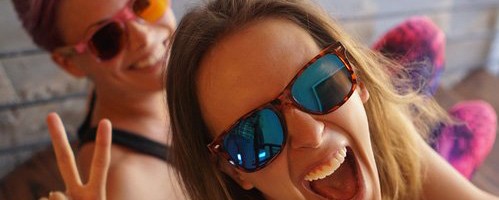 By Morna Simpson, May 2016:
View article here via LinkedIn: https://www.linkedin.com/pulse/women-watch-technology-morna-simpson
Engage Invest Exploit 2016
This article showcases a few of the brightest new talents and rising stars in the technology sector in Scotland, who will be pitching at EIE 2016. Informatic Ventures, flagship annual technology investor showcase, Engage Invest Exploit (EIE), connects up to 60 Scottish technology based life sciences, ICT and energy companies with over 200 international investors and has become the largest event of its kind in the UK.
Girl Geek Scotland would like to thank Nano-Lit Technologies Ltd. who have sponsored this article. Please show your support by entering Nano-Lit's "Selfie & Sunglasses Competition", and give your self the chance of winning some gorgeous Vira Sun Sunglasses at the same time. Competition details are at the foot of this article.
A big thanks also goes out to all the girls for scheduling in an interview in the hectic run up to the event. They are: Sarah Morgan Founder and CEO of Nano-Lit Technologies Ltd. the next generation in lighting solutions; Suzanne Mitsche CEO of Mindmate, apps to support people suffering from dementia; Sabrina Malpede CEO of Act Blade, lightweight efficient blades to support the energy industry; Rebecca Pick CEO of Pick Protection Ltd., innovative lone worker protection; Kirsty Mitchell CEO & Founder Digital Connextions Ltd.; Jossie Ellis CEO of Levima Ltd., simplifying expense management; Pippa Gardner CEO & Co-founder of Urban Tide, Smart Cities Data Experts; and Leah Hutcheon, CEO of Appointedd, online booking and business management software for SMEs.
Sarah Morgan,
Everything on earth exists, because of the sun. Sunlight creates life. Yet, electric light has a long way to go, before we can mimic natural, life-giving light.
Nano-Lit is an industrial design led company developing lighting solutions with quantum dots, a nano-technology that enhances the qualities of electric lighting, so that we can have increased control.
At Nano-Lit we want to solve the psychological and physiological impact of light starved environments on humans, while improving energy efficiency and lowering carbon output. We are working with lighting manufacturers to develop Human Centric Lighting applications that retrofit into existing LED fixtures, and control light output so that it optimises users well-being. Our lighting solutions improve the longevity of LEDs, and with enhanced IoT technologies, this leads to a reduction in energy consumption, in some instances up to 70% (research carried out by Osram).
People love the idea of our product, because we all know how much better we feel when the sun is shining… and we all want to help create greener solutions and a healthy planet for the next generation.
You may not have heard of us because we are patent pending, and in the final stages of a SMART grant proof of concept. That hasn't stopped us from racking up a number of very high profile clients over the past 4 years, who are collaborating with us on our product development. I can't reveal our clients, but I can tell you that thy are billion dollar companies and that we expect to launch products in the high-end automotive industry as well as confirm global distribution for indoor solutions in the near future.
We are aiming to raise £650K at EIE 2016 to make a manufacturer's sample, accelerate our route to market, and to map human performance against our IoT light output.
Changing the world starts with changing your immediate environment.
Find out more and make an appointment to see us at EIEmichael@nano-lit.com 
Susanne Mitschke,
MindMate is the fastest-growing platform for people with dementia, their carers and family members. For them, we currently provide three different apps, as we appreciate that every group has their own needs and requirements on an app.
People love our product, because a) we provide them with a holistic platform, and b) because we don't stigmatise people who live with dementia. We believe that you can and should live fully with dementia and should not worry about common misconceptions.
For MindMate, dementia is just the beginning. We are already seeing that independent living is for many people 65+ a big issues. Our vision is to become the market leader for grey tech in general, with different sub-categories and special services for people with a (long-term) condition, such as dementia, or stroke.
We started with MindMate just one year ago. The journey has been terrific. We progressed tremendously fast, which was also the result of participating in the ignite100 accelertor. At ignite, they forced us to launch MindMate as an MVP, which was the best thing we could do. We now have more than 20,000 monthly active users who help us with their feedback to create the best Alzheimer's platform on the market. Technology changes very fast. To keep on top of the game, MindMate will even change in 6-12 months dramatically. We are currently building significant relationships around our platform to grant our customers the best user experience on the market.
MindMate will raise a substantial seed-round end of this year/beginning of next year. Raising our pre-seed round showed me already that taking on investment is all about building and leveraging relationships early. Fundraising is a full-time job and distracts from running the business. EIE will help us to move quicker on this front line.
Contact: susanne@mindmate-app.com
Sabrina Malpede, 
Wind energy will soon become subsidy-free. To remain competitive, the cost of wind energy must drop! The most powerful way to reduce that cost is to increase energy production by developing larger rotors. The result is that all manufacturers of equipment in this industry are on a mission to develop longer blades.
But with the current technology, this is difficult and very expensive: blades are becoming very heavy, they are very difficult and expensive to transport and the total time to market increases.
ACT Blade is the lightest and most controllable wind turbine blade, using carbon fibre reinforced structures and textile.
Having won an Energy Catalyst award from InnovateUK in 2015, and in collaboration with the Offshore Renewable Energy Catapult and DNV-GL, we have demonstratated that our blade is up to 50% lighter and 30% stronger than a conventional blade. By enabling longer blades, ACT Blade can increase energy production by 10%, reduce the cost of energy by 9% and reduce the OEMs CapEx by 90%.
For the last 12 years, our team has developed and commercialised innovative design solutions, which are now the standard in the Marine Industry. ACT was created using the same technology and know-how we used to develop the fastest boat in the world, the America's Cup boat.
Over the next three years, our team will design, test and certify a full scale ACT Blade. Commercialization will start in 2019 and by 2023, we aim to gain a market share worth £140m. We are seeking both a financial investment and an industry player interested in supporting our developments.
We hope EIE will help us to find supporters of our ambitious plan. We will deliver the next generation of blades and directly support the development of the wind energy industry, as the sectors takes the final steps to generating subsidy-free and compiting versus fossil fuel.
Contact: s.malpede@actblade.com 
Rebecca Pick, 
There are over 6 million lone workers in the UK (like estate agents, cleaners, taxi drivers and many more) and currently only 5% of these lone workers are given any form of protection. This is a legal requirement, and the legislation is becoming increasingly stringent. Pick Protection can help companies to protect their lone and at risk workers.
Pick Protections first product the Personal Guardian is a wearable lone worker alarm. It is a first for the lone working industry, it is a unique combination of alarm hardware and smartphone software. This has allowed us to create the smallest, lightest and most cost effective lone working alarm on the market with an industry leading 12 month battery life.
The Personal Guardian also acts as a personal attack alarm and will be the first monitored alarm on the market, in other words, the only personal alarm that can summon a Police response. The vision is to bring more innovative security solutions to market and become the market leader.
Pick Protection's key achievements are raising the seed funding we needed to fully develop the Personal Guardian, we've had a lot of media coverage (we were featured on Sky News, in the Guardian, the Times and many more) and finally we were the first undergraduate business to ever win a Converge Challenge Award and we won the Santander Universities competition, for Best Undergraduate Business in the UK.
In three years time I see myself driving the international expansion of Pick Protection. At that point I believe we will have launched a second product and raised a series A investment giving us a platform to further expand the business.
Pick Protection is asking for £350,000 firstly to increase our team and drive sales but also to begin development of a second product. We are also asking for contacts in companies with lone workers. Both of these asks will help to grow the business and we believe EIE is a fantastic platform to tell people all about what we are working on!
Contact: rebecca.pick@pickprotection.com  
Kirsty Mitchell,
Our data analytics platform called Hiryzr, helps young people identify valuable skills and strengths that they often don't know or think they have. It's dynamic data visualisation tools quickly discover and close skill gaps to reveal available and relevant career and educational opportunities.
Hiryzr is mobile responsive, it's perfect for young people who run their lives on smartphones and mobile devices. Our unique anonymous peer rating system encourages young people to feel valued and gives them the confidence to recognise their full potential. It provides a step up onto the employment ladder by making excellent available and accessible job matches.
We will change the world by helping the 1 million young people here in the UK and the 70 million young people globally who aren't in education, employment or training, find relevant and desirable education and career opportunities. In doing so we will help employers throughout the world find a skilled workforce faster.
We have paying customers, thousands of end users and our first 3 year license agreement with Scotland's National Skills Agency, Skills Development Scotland. In three years we will have scaled the company significantly, opened a second office in the US, further developed the platforms commercial analytical capabilities and closed a deal with a major UK provider to use our platform, as far afield as Singapore to Chile.
Investment resulting from EIE will enable first mover advantage, rapid expansion, by securing multiple pre- contract agreements. Importantly it will change the lives of thousands of young people globally by closing the skills gap.
For more information please contact Kirsty onkirsty.mitchell@digitalconnextions.com  
Jossie Ellis,
Levima simplifies expense management for businesses making spend predictable, visible and insightful. We cut out reconciliation, manual data entry and reimbursement focusing instead on upfront budget approval – this allows businesses to let their people spend autonomously and with trust but, without losing overall control.
Our vision is to redefine what the business banking sector should be like – with mobile, service driven fintech solutions at it's heart which delight and truly add value to businesses based on advanced data analytics.
Expense management is just the start of that journey. So far we have a secured grant funding through SMART:SCOTLAND to support our technical development and have early users piloting the product. We have businesses lined up who want to test Levima and are in discussion with channel partners to go to market.
In 3 years our goal is for Levima to be the go to cloud solution for business expense management. Our solution will seamlessly connect end-to-end with all aspects of a companies management tools from sales prospecting through to payroll. This will mean that businesses, whatever their size, can efficiently manage day to day financial operations and also get valuable insight into true cost and value of their spend across the board to help them make better business decisions and plan for success.
I am at the beginning of my startup journey with the team. Having worked with large corporates I am excited to be working in a startup with so many passionate and driven people who love what they do and have the opportunity to directly impact the success of a business. Finding the right investor partner to join our team revolutionising business banking is key. We're raising £150k seed to support development in tandem with our Beta pilot and expand the team ahead of market launch to develop go-to-market relationships & sales channels.
For investment opportunities or to join the pilot with your business, email jossie@levima.com 
Pippa Gardner
UrbanTide: Smart Cities Data Experts, urbantide.com
There is an Urban Tide happening. The world is undergoing the largest wave of urban growth in history as more people choose to live in cities. Over 50% of the world's population currently live in urban areas and this is forecast to rise to over 70% by 2050.
We are currently developing our core product: the next generation U~SMART data platform to capture, extract, share, integrate, analyse and ultimately open-up city data. As individuals, we all produce data more than ever before – and by 2020 there will be an estimated 50 billion devices connected to the internet world-wide and generating data via the Internet of Things (IoT).
When there is a strategic attitude to valuing and utilisiting this data as an asset in its own right, a flexible and scalable approach to technology and an investment in real engagement with people who live, work and play in cities then magic can start to happen. Urban Tide has world-leading track record in the global smart cities marketplace (estimated at $1.5TN by 2020) and supports cities to accelerate their journey towards being smarter.
The team at Urban Tide is growing, and for me, this is a really exciting time as we work to put in place the robust foundations, principles and procedures that will allow us to develop a strong, open and involved culture from the outset – and scale quickly.
We have many other product concepts in the pipeline and finding the right investors at EIE 2016 will be key. Smart cities is a truly global opportunity and we are hitting the market at the right time as more and more cities, regions and countries across the world adopt a smart approach. Our work with cities and other large urban areas will help build smarter, sustainable and more liveable places for everyone.
To discuss investment opportunities and the bright future of Urban Tide please contact: pippa.gardner@urbantide.com  Twitter@urbantide
Leah Hutcheon,
Appointedd is a cloud based online booking and business management software. We power independent businesses – hairdressers, car valets, photographers, accountants to take any type of booking, on any platform, in any time zone.
We've built the world's first cross-timezone booking tools, giving us the most flexible and scalable online booking system on the market. This allows global organisations to be bookable on one platform, and cuts down on the constant 'timezone maths' that organising a call or meeting across timezones usually takes. It's so exciting to see the potential of our software to transform thousands of SMEs.
Appointedd is changing the world for small businesses by giving them all the tools they need to succeed, all on one platform. CRM, marketing automation tools, financial reporting and task management, all connected with online booking. Our software has two-way synchronisation with over 30 other SaaS tools and all major calendar systems, so we give business owners everything they need.
I'm so proud of the distribution network we're building. We've just been selected as one of 12 integrated systems in an innovative app platform curated by National Australia Bank. The deal will see Appointedd's software being offered to 700,000 SMEs across Australia.
The next few years are going to be so exciting for Appointedd. Online booking is booming – consumers are getting more demanding and we want to be able to book everything online. Powered by Appointedd will be the 'Intel Inside' – gold standard for online booking.
We have recently closed an investment round so we're looking forward to connecting with potential customers and distribution partners, as well as building relationships with investors for a round in 2017.
For partnership or investment opportunities, contactleah@appointedd.com  
Competition!! Win Sunglasses!
The ideas are so bright at EIE this year that Nano-lit will be giving away two gorgeous pairs of Vira Sun sunglasses at EIE 2016 and an additional pair drawn at random from the Twitter-sphere on Sunday 29th May 2016. This competition is open to anyone. You don't need to attend EIE to win!
How to Enter
Follow us on Twitter @QuantumDotsBlog, post your selfie with sunglasses and tweet: Win Sunglasses! Follow @QuantumDotsBlog Nano-Lit & Virasun, Selfie & Sunglasses competition. http://bit.ly/1WaOLUH #EIE16 #womenintech RT
See the full Vira Sun range at virasun.com/shop/
The competition will close at midnight GMT on Sunday 29th of May 2016. The judges decision is final.
Photo Credit: Vira Sun : )
Author: Morna Simpson (Founder of Girl Geek Scotland), is a Digital Product Manager and Business Analyst. Currently working with Nano-Lit and Be-Positive. Tweets @girlgeeks