Date/Time
Date(s) - Thursday, September 14, 2017
6:00 pm - 9:00 pm
Location
Anderson Strathern
Categories

Girl Geek Scotland Panel Event: Getting Past the Gatekeepers – Passwords for Angel Finance on Thursday 14 September 2017
Thursday 14 September 2017 at 6pm – 9pm
4 speakers
Chair-led discussion panel
Anderson Strathern, 1 Rutland Court, Edinburgh EH3 8EY
What do you do? Why should I care? Why would I invest in YOU? These are the three questions that should be foremost in your mind when you plan your pitch to Angel investors. Around 80% of pitches that get past the gatekeepers will get investment. In this panel event we invite gatekeepers of Angel Finance to tell you directly what they are looking for when they review a business application so that you can make it to the next level.
Speakers
Jackie Waring is Founder and CEO of Investing Woman where she has built a network of high-net worth and sophisticated women investors, and entrepreneurs of startup and growing businesses, and runs a programme of events for their community. This includes open workshops dedicated to helping entrepreneurs become investor ready (link). Jackie has been an external advisor to the UK government on 'Access to Finance for Women Agenda' and was the UK's first Advisory Board Member to the Global Banking Alliance.
Laura Peachy has recently been appointed Senior Associate at MBM Commercial, where she represents both entrepreneurs, investor groups, and high growth companies. Jackie enjoys helping entrepreneurs achieve 'investor readiness' and transferring their ideas into credible business propositions. She has advised on both sides being an 'investee' and investor' in a wide range of financial transactions from seed funding, series A & B, to VC. as well advising on intellectual property, crowd funding, scale-ups and exits. She represents the sponsorship of Engage Invest Exploit.
Vicky Brock is a globally renowned and award winning entrepreneur, innovator and woman in IT (Forbes, Bloomberg, Everywoman, Computer Weekly – links). She raised $2 million in equity investment and grant funding from her extensive international network for Clear Returns as Founder and CEO. She built an EU Top Tech Startup for her multi award winning company which has machine learning & AI at its core. Vicky is sharing the fundamentals of becoming investor ready on her blog.
Lynzi Leroy – E-VR
Lynzi Leroy is Director of E-VR Arcade at Ocean Terminal and E-VR Incubator at Techcube. She is also Managing Director at the Scottish Design Exchange, where she represents 150 artists. Her E-VR incubator offers free space and equipment to VR developers, creators, and filmmakers. Crucially, she combines the incubator help with being a gatekeeper to angel finance for VR startups.
Agenda
6:00pm-6:30pm – Registration and networking in the foyer
6:30pm-6:45pm – Welcome from Girl Geek Scotland and Anderson Strathern
6:45pm-7:00pm – Panel pitches
7:00pm-7:15pm – Break for snacks, drinks and networking
7:15pm-8:30pm – Panel discussion with Q&A
8:30pm-9:00pm – Networking and close
Refreshments
Wine/soft drinks and nibbles provided.
Directions and Parking
Please access Anderson Strathern offices via Rutland Court and walk across the bridge to their office's entrance. Google Maps Directions may lead you to their underground car park which is a short walk away from the entrance. Here are walking directions for St John's Church at the West End of Princes Street for ref: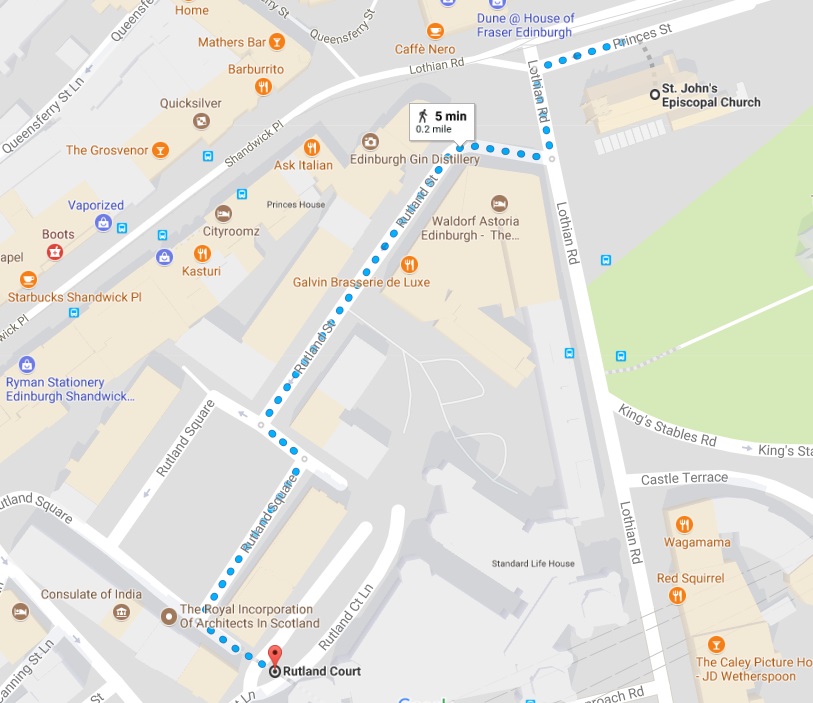 Please ensure you are pre-registered on Eventbrite so we can easily check you in. No private parking is available, if arriving by vehicle please forward plan your city centre parking options. On street parking is available in some areas of the city centre metred before 6:30pm and free afterwards. Here are some parking options via Parkopedia.com (you can filter on Street, Car Parks, or Private to view different options).
Girl Geek Scotland's Mentoring Community
We are working to build a fantastic community and make it as easy as we can for interested people to find mentors in their area. Find out more information on our website.
Sign up for our Online Community
Register for the GGS online community and be the first to find out about new events, the latest new or strike up a conversation with others: http://www.girlgeekscotland.com/join
With enormous thanks to our Parent Organisation and Main Partners:

Now home to over 18,000 students from over 100 countries, we first welcomed 800 students as Napier Technical College in 1964. However our story goes back to the time of John Napier, the brilliant sixteenth century mathematician and philosopher from whom we take our name. When you come to Edinburgh Napier University, you'll study at one of our six specialist schools. Each of our schools is an impressive institution in its own right, with world-class facilities, academics, researchers and international links.

Bright Red Triangle (BRT) offers a comprehensive set of professional/personal development activities for students and graduates in partnership with key stakeholders within and beyond Edinburgh Napier. Our focus is on improving the enterprise skills and employability of our students and graduates while instilling them with an entrepreneurial mindset. We offer business incubation services, paid consultancy experience as well as design thinking and design your future courses to our current and past students.

LINC Scotland is the national association for business angels in Scotland, with a membership which includes many active individual investors and most of the main angel groups or syndicates. We represent our members at government level in Edinburgh, London and Brussels and were founding members of both the European Business Angels Association (EBAN) and the World Business angels Association (WBAA). Since 1993, we have played a significant and active part in changing the business culture in Scotland and the Scottish business angel marketplace is now recognised as amongst the most developed in Europe.
In continued gratitude to our Subscribers who help to achieve our four key aims of: Sharing Best Practice, Profiling Women, Supporting the Delivery of Training, and Being Visible Allies by signing our Declaration of Support for Women in Technology:










With hearty thanks to our Event Sponsors: